A Los Angeles man has been fined $550 and ordered to pay restitution for riding an electric scooter while intoxicated and knocking over a 64-year-old pedestrian on a sidewalk.
The L.A. City Attorney's Office said the prosecution of 28-year-old Nicholas Kauffroath was the first motorized scooter DUI incident charged in Los Angeles.
The office says on Aug. 4 Kauffroath had a blood-alcohol level more than three times the limit while operating a Bird scooter.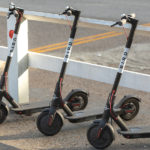 The pedestrian was knocked down while leaving a theater and suffered a knee abrasion while the rider continued on.
Kauffroath pleaded no contest to operating a motorized scooter while under the influence and hit-and-run.
He was also placed on 36 months of probation and required to complete a DUI program.
Copyright 2018 Associated Press. All rights reserved. This material may not be published, broadcast, rewritten or redistributed.